Leadframe Arranger 『KALGAMO』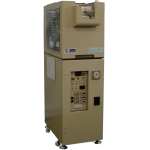 It is a frame line device that keeps being called for a lot of years by the pet name of 'KALGAMO' after it puts it on the market with our representative device.
It is a device for the frame turned on to the hopper with inside and outside/right and left of the frame doesn't become complete to line up in the specified constant direction in the device to supply the frame to the processing device etc. , to be supplied to the processing device etc. , and to contribute to the automation.
Lead-frame processor 'ARISU'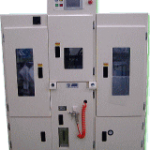 'ARISU' is a processing device that can install trim/foaming molding tool.
The composition of the device satisfies the customer's demand. The unloader valve, stamping, and loader/imaging test, etc. to say nothing of the design fabrication in the processing device unit can be added.
The press mechanism is an original toggle type pressurizing mechanism. It is a standard and there is a lineup from 1ton to 6ton.
Moreover, the halt function is one of the features momentarily at the time of considered the metal mold damage prevention.
Mark/resin removal device『AIGAMO』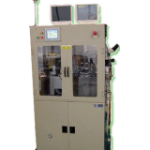 Pet name 'AIGAMO' is a device that installs the laser mark device and processes it to the resin on the lead frame.
The semiconductor product is miniaturized in recent years, the thickness of the resin that protects the chip disappears, and it in the processing process
①The resin with which the element is molded is lacked.
②Damage and the wear-out of punch/Di of the metal mold are early.
③ etc.
The problem is caused drinking.
It is our 'AIGAMO' to have solved this problem.
Moreover, it small packages and it packages it the POWER system etc . It is a patronized device to the production of many kinds of semiconductor products including the [heno] stamping.